Consumer Facing Example
While at a client I worked on updating the PacificSales.com website. This is a high end appliance showroom with multiple locations in California and Arizona. It is owned by BestBuy. This is an older responsive website and I while I was tasked with providing an updated design it was not implemented (budget constraints determined that the project go on hold indefinitely.) However, a few improvements were made.
The first thing that I did when starting the project was to consolidate several sets of wireframes into one team project in Axure RP. This made it easier for multiple people to work on the wireframes at the same time as well as providing version control. Having a single master wireframe also made it easier for the offshore development team and business users to find the pages that they were looking for. We used extensive documentation within the wireframes using the notes feature of Axure RP. This allowed the developers to check to see what colors, font sizes and font icons they should be using while keeping layout information separate from the business requirements.
Social Media Share Buttons
The existing way that a customer could share product pages on social media was difficult to find and broken. The customer had to find a "Share" link which was hidden in a cluttered section below the header, After clicking on the link a small modal appeared with social media icons in different shapes and sizes.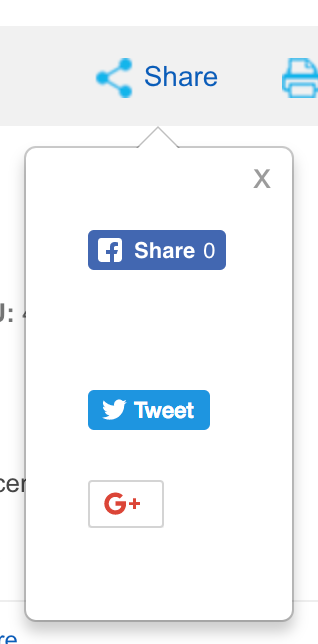 My suggestion was to move it down onto the product page next to an existing "email this page to me" link. Then all of the sharing features would be grouped together on the page and would be visible to the customer. We would also use smaller icons that tend to be used on other websites with hover over text and alt text descriptions for screen readers. Even on a busy page the social media icons pop out.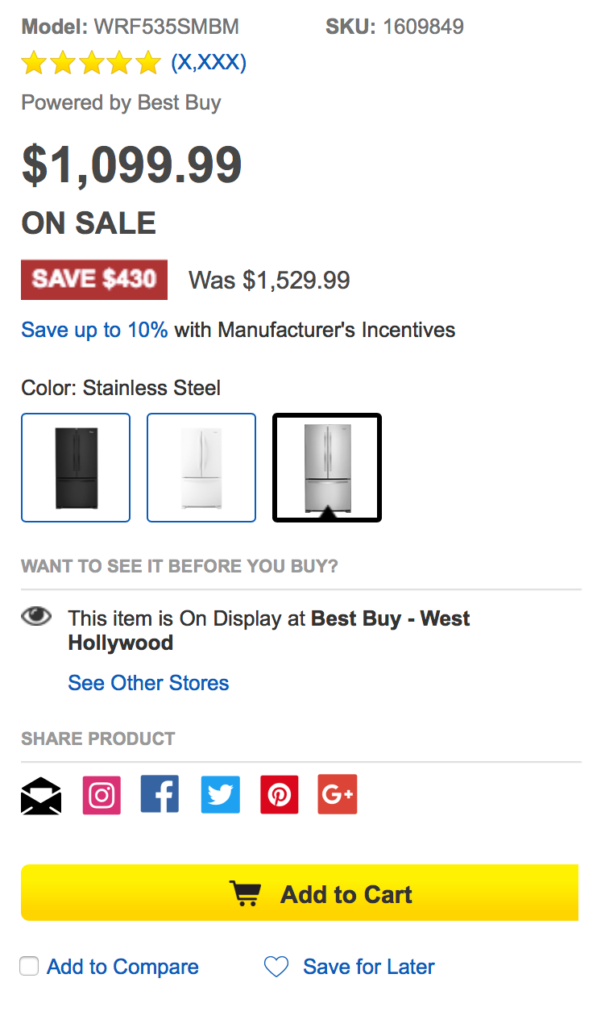 Home Page Redesign
Again, this wasn't implemented but the redesign process was still a good exercise to go through. Marketing felt that Pacific Sales was a high end appliance dealer and gave competitor examples. In reviewing these examples the existing Pacific Sales website did not look like a luxury or "ultra-luxury" (gotta love Marketing) experience. It was more on par with Sears. While brand identity issues is not something that is generally in the realm of usability it can be argued that you are not meeting the end user's needs if you are not providing them with the experience that they are expecting. There were also some alignment issues with page elements in small/mobile view.
The existing home page at the time: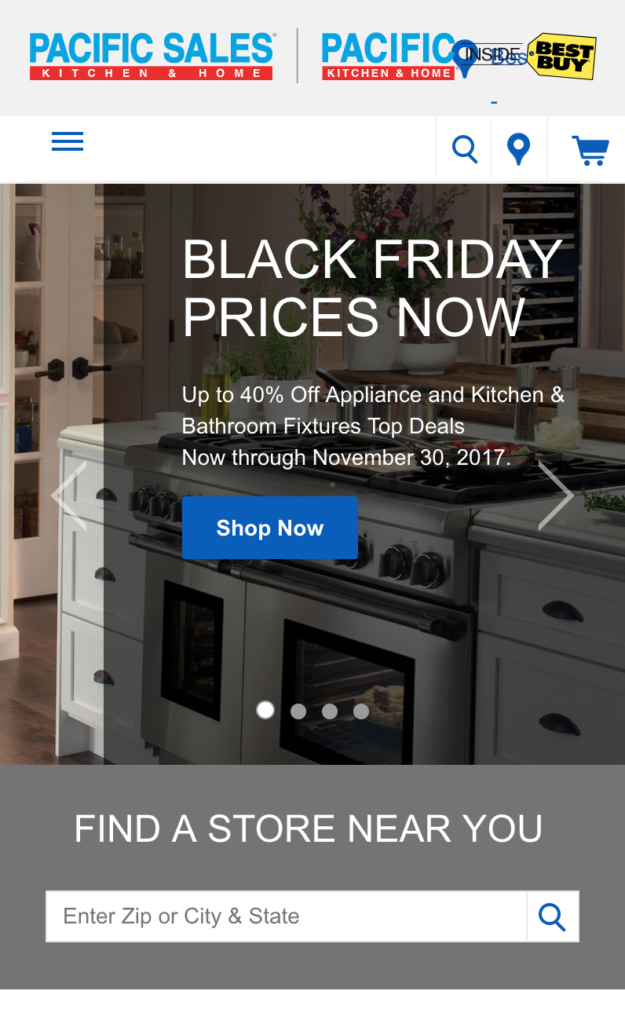 The proposed redesign: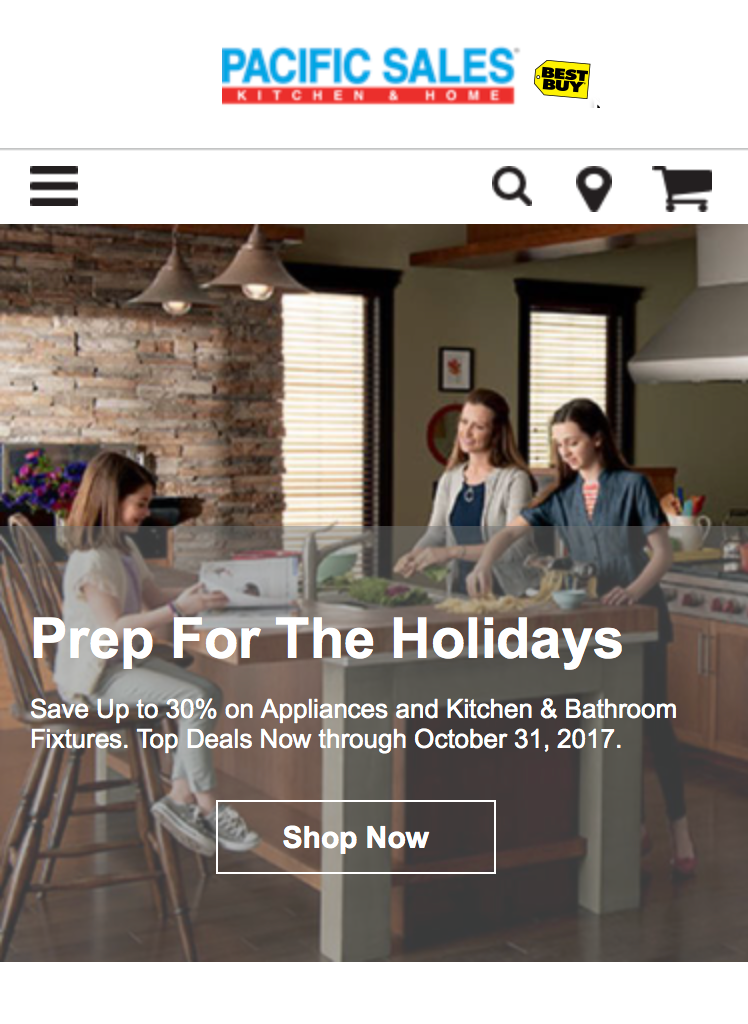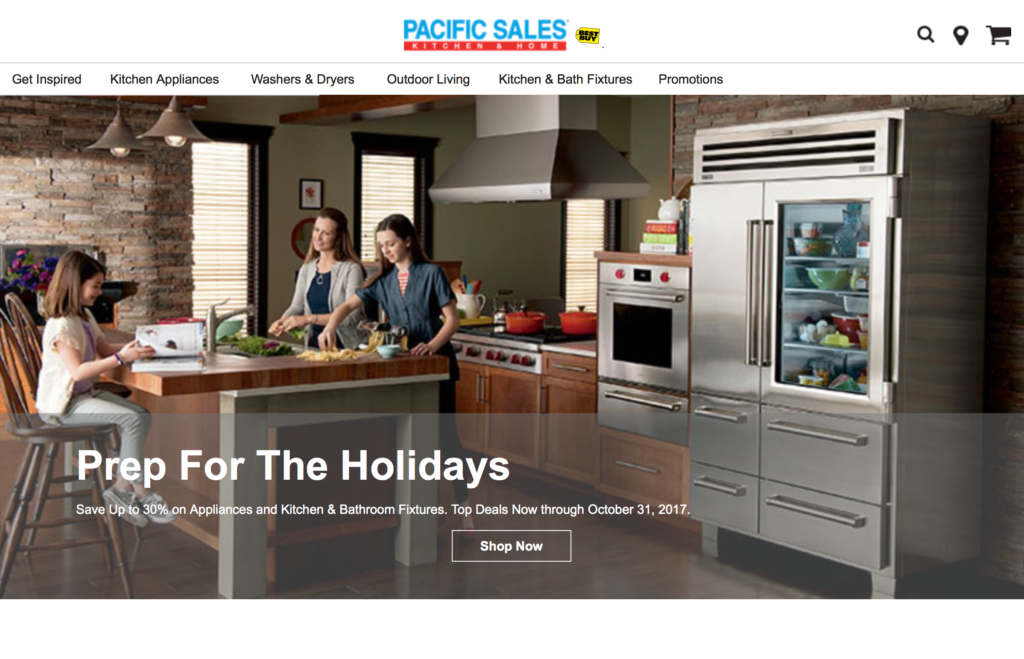 The redesign consisted mainly of suggesting:
Cleaning up clutter. More white space and cleaner page elements = higher end.
Fixing broken screen elements. Would you trust buying a $15,000 oven from a company with an amateurish looking website?
Removing the image carousel from the mobile view. Image carousels can be annoying and are an accessibility issue unless you add a pause feature.
Using one corporate logo rather than two. The "in BestBuy" logo is confusing to customers and seems unnecessary in the header.
Developing a color scheme for Pacific Sales which was distinct and more high end.
Using large images with people in them. Images with people can be more inviting and eye catching than static images of kitchens.